French Organic Artisanal Liquor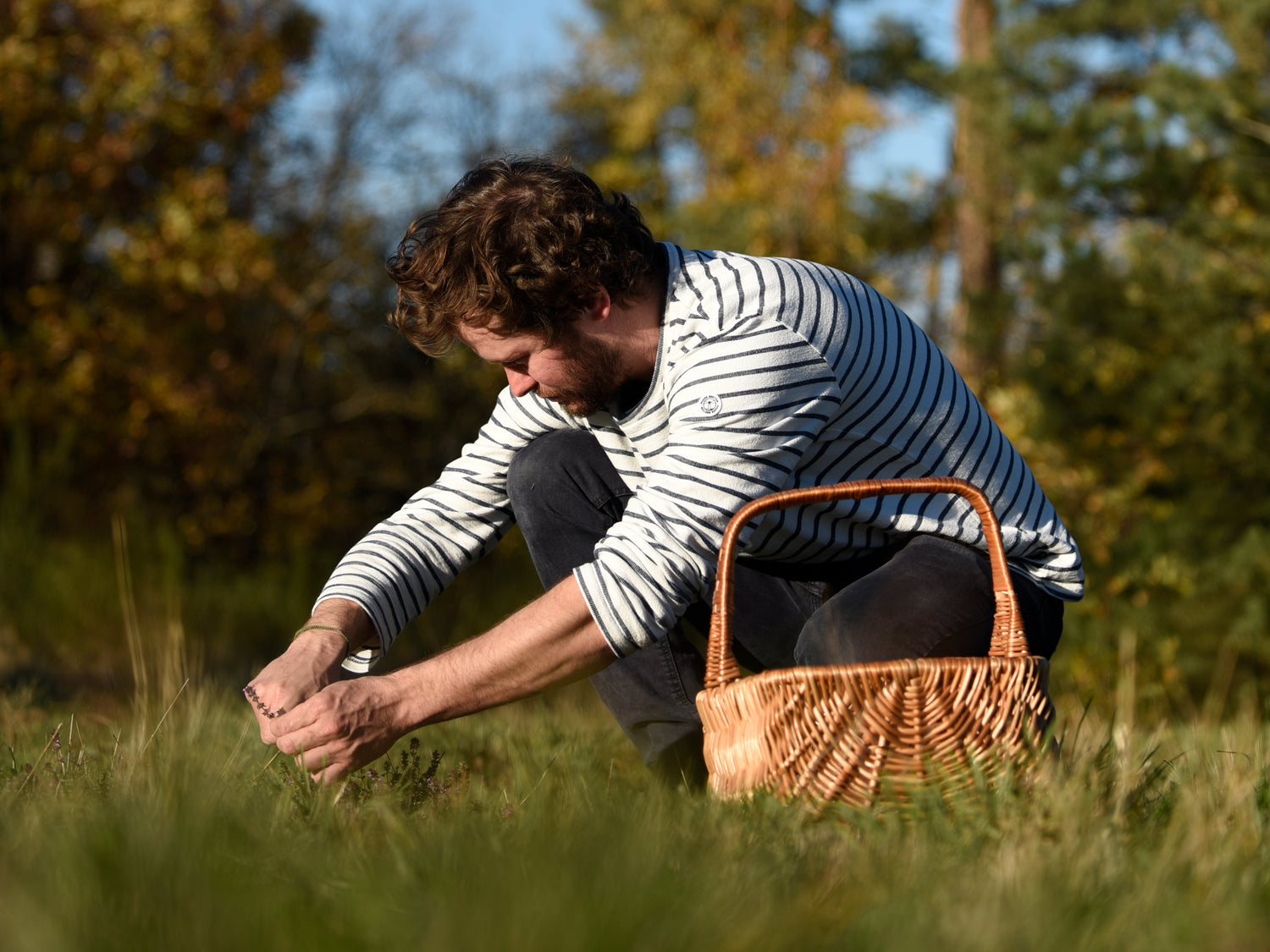 MAISON 16 is a French independent spirit producer, specialized in the elaboration of organic liqueurs made from wild pickings. The project started with César, a young entrepreneur with the mad desire to dust off liqueurs by creating authentic and lively drinks. After several years of testing and tasting, we developed unique recipes with our recognizable know-how. All our liqueurs are handmade by us in our village, in the Loire department in France.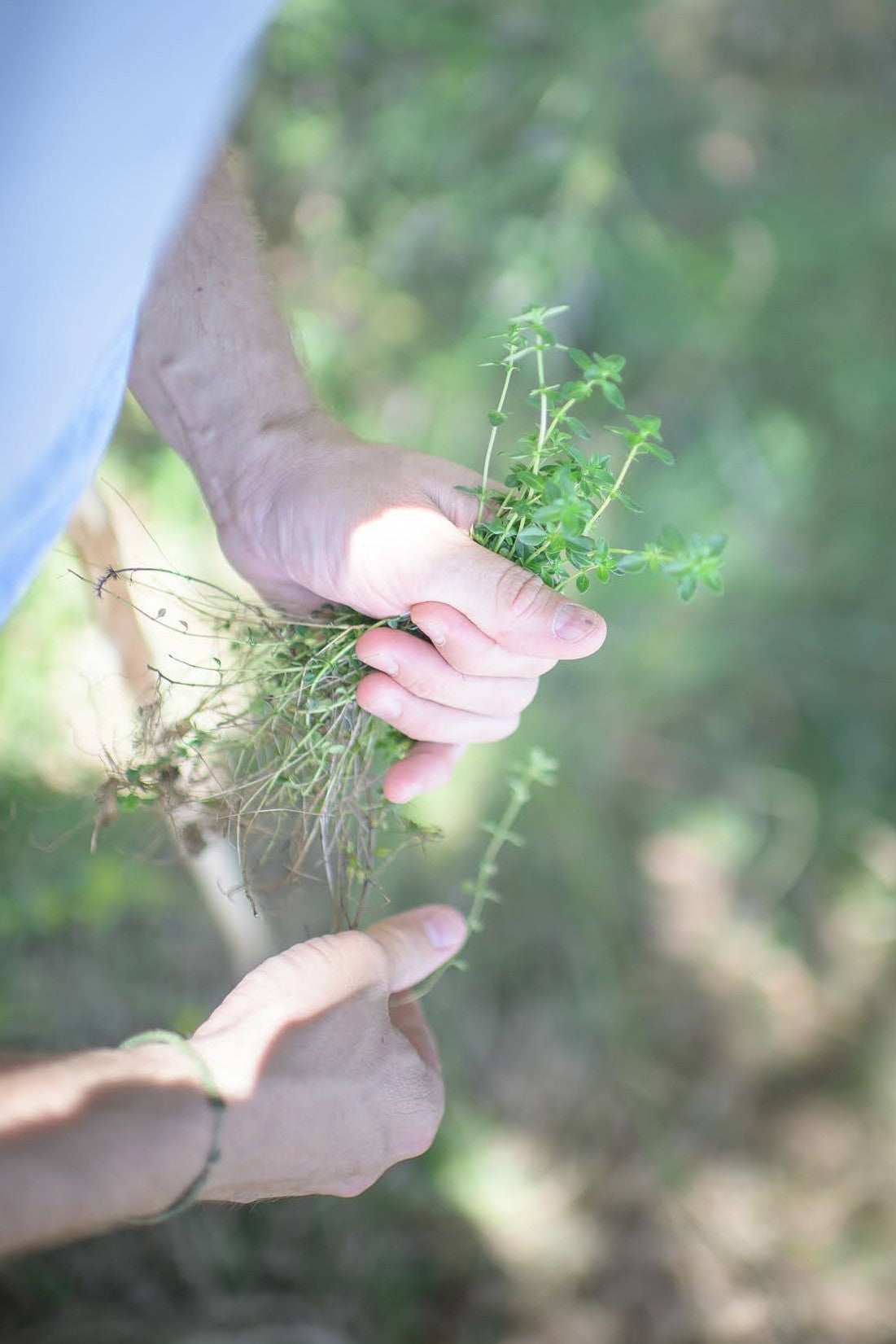 Selecting qualitative raw ingredients is the most importance for us. This is why we only use alcohol and pure cane sugar certified from organic farming.
Moreover, wild handpicking is carried out locally in familial forest plots. Nowadays, we also partner with local farmers and professional herbalist pickers. This project help enhancing the natural resources of our territory through a sustainable and environmentally friendly process.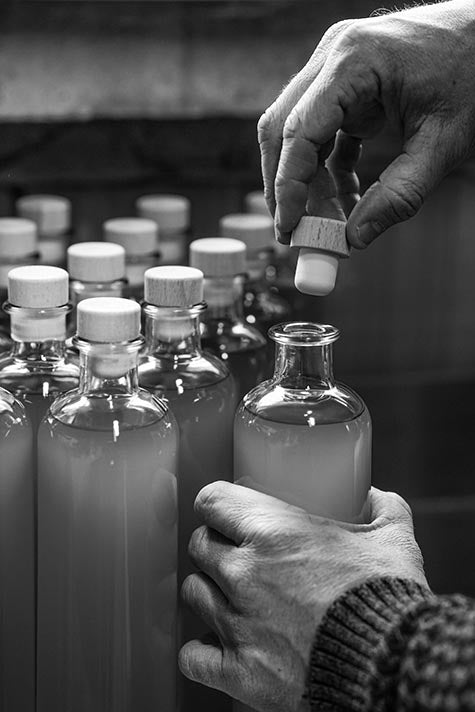 Production and bottling are handmade and carried out in small series. We want to produce natural drinks, hence the use of a natural process: alcoholic maceration.
Chlorophyll pigments, naturally found in plants, give a subtle green color to our drinks, which might fade with time and light but with not taste alteration. We pride ourselves for our spirits, which are made without added flavors, colorings or preservatives. In short, we create quality spirits, which are authentic and natural. And we can't wait for you to try them!
If you want any more information on Maison 16 and/or on our products and where to find
them, please do not hesitate to contact us.
Contact us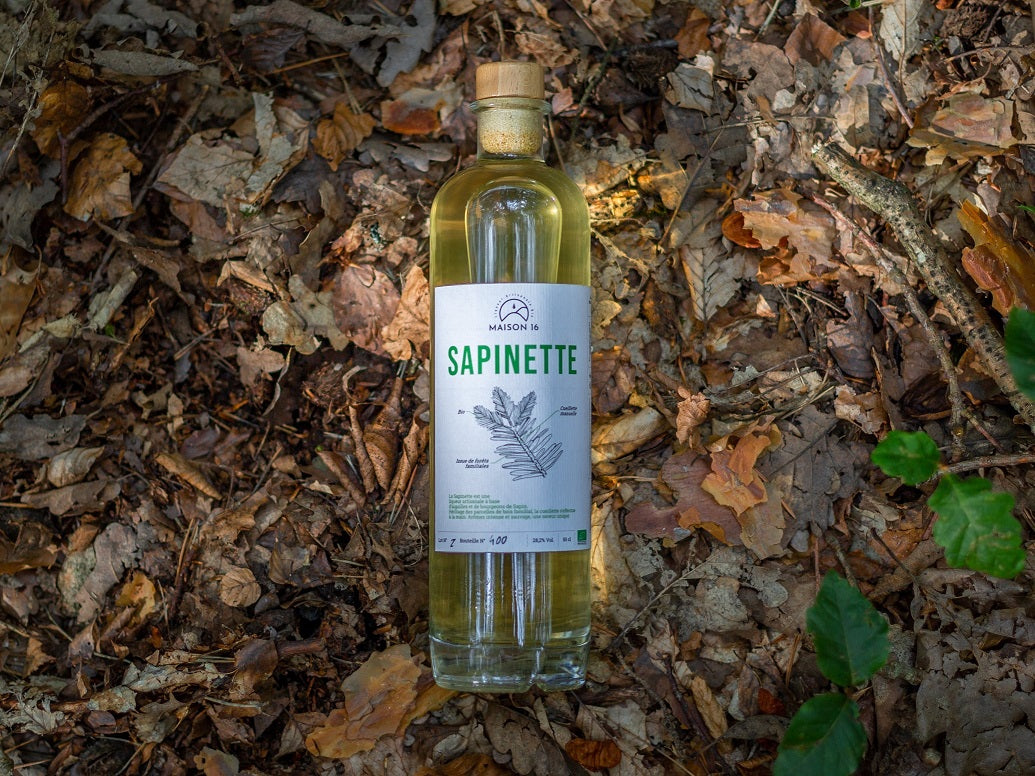 SAPINETTE (28,2% vol.)
Our first product, the one that launched Maison 16, is a liqueur made from young buds and needles from fir trees.
This fresh drink will transport you in the middle of a forest, with its fir and sap flavors and a natural touch of citrus fruits.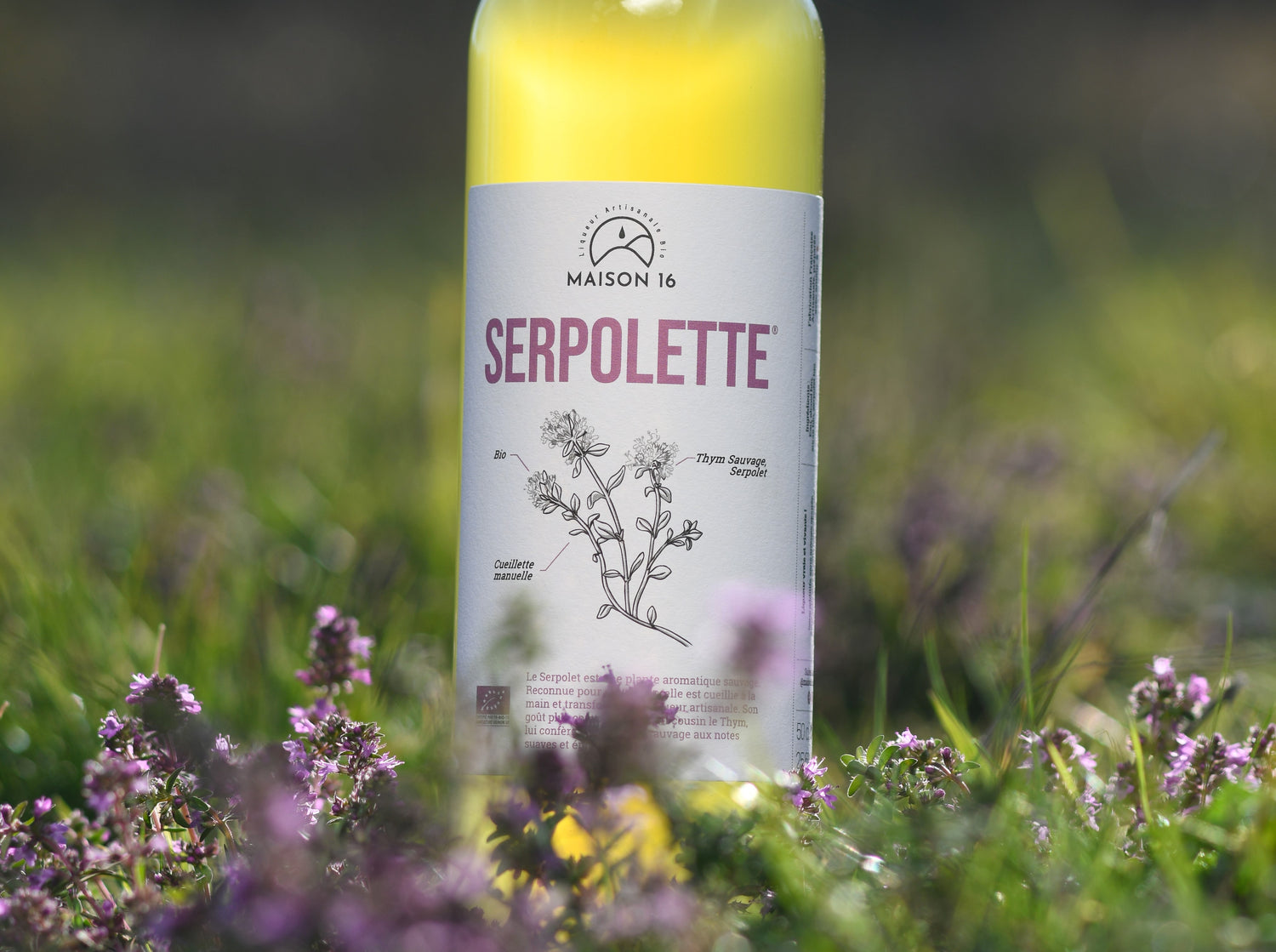 SERPOLETTE (25.6% vol.)
Your stroll in nature continues in a meadow with our second liqueur, the Serpolette, made from wild thyme (known as serpolet in France). The plant's leaves and purple flowers are handpicked in summer.
This aromatic plant brings more complexity than its relative, the
common thyme, with delicate spicy and herbal notes.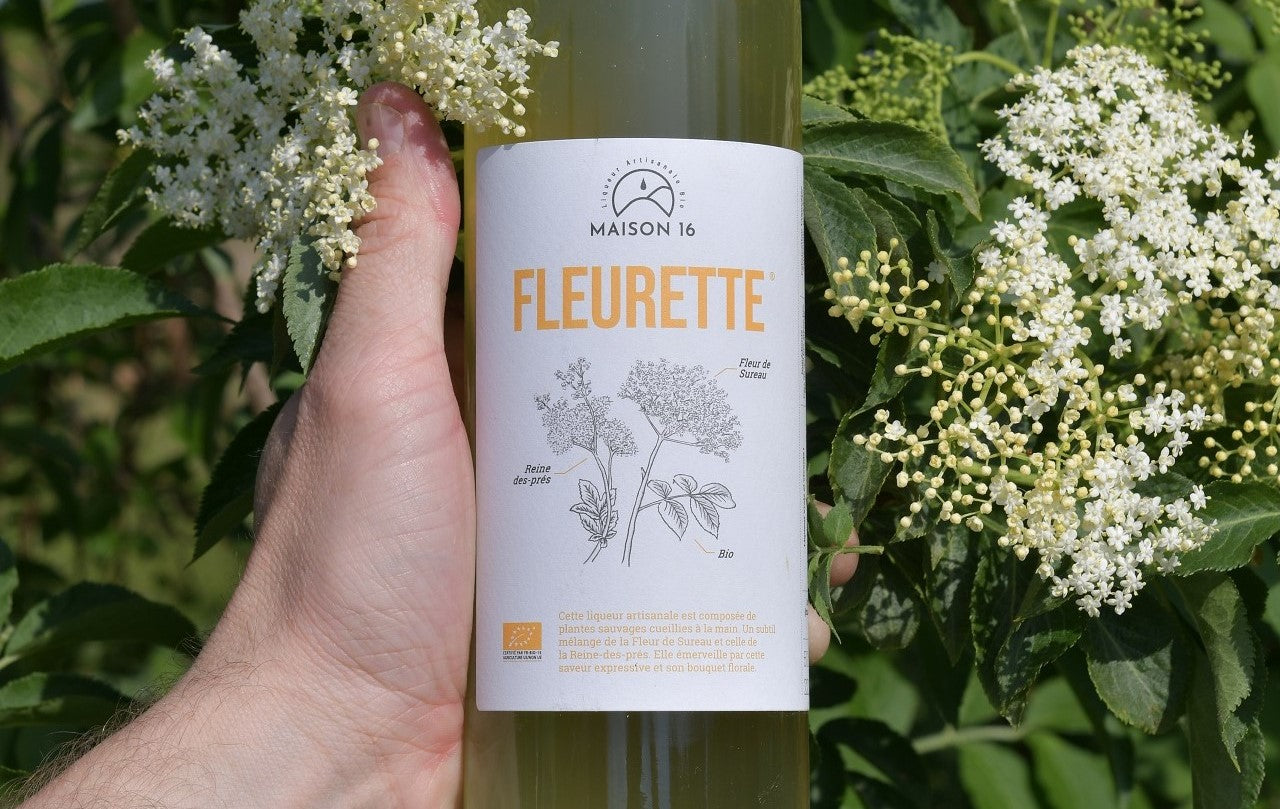 FLEURETTE (22.2% vol.)
Our third liqueur takes in your in a flower field, filled with white wildflowers : the elderflower brings an exotic taste with notes of lychee, and the meadowsweet completes the mix with its natural almond and vanilla flavors.
Naturally, flowers bring a delicate sweetness to the liqueur, making it a light drink to savor.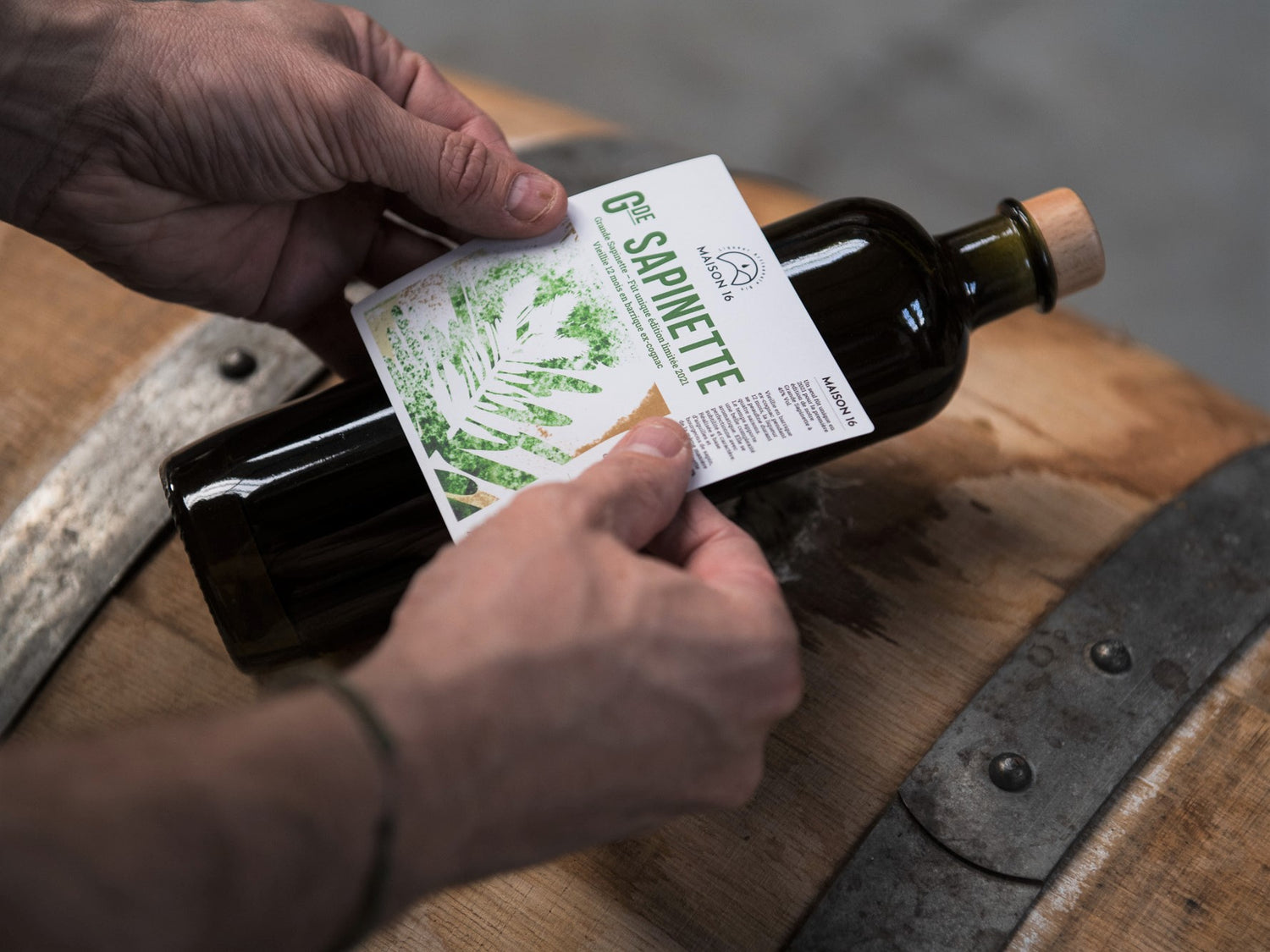 GRANDE SAPINETTE (45% vol.)
Our Grande Sapinette is the result of our Sapinette being aged 12 months in barrels previously used for Cognac. The process base is the same as our traditional Sapinette, by handpicking needles and young buds from fir trees. However, this elixir is educed at 45% (instead of 28% for our traditional Sapinette), enhancing its flavors and creating a delicious complexity.
Using barrels and the Solera process since 2021 allowed us to find a unique taste. Every year, a new vintage is bottled. The impact of the wood and the dynamic aging make this digestif truly unique!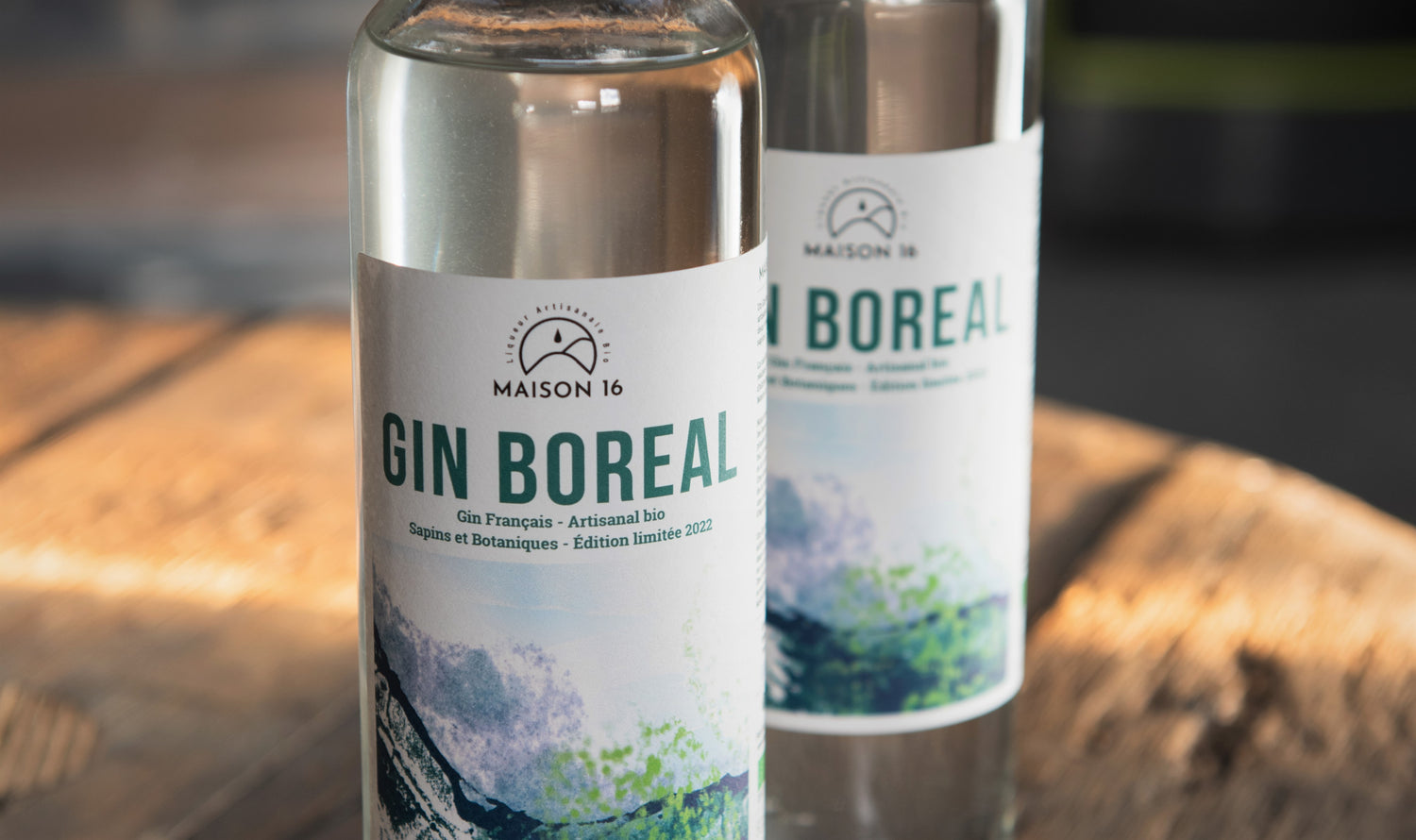 GIN BOREAL (42% vol.)
Organic and handmade, our distilled gin is perfumed with 2 varieties of fir trees from the Forez area: the Douglas fir and the Silver fir, whose needles and buds are handpicked.
Both are blended with juniper berries and a botanical mix made of coriander and peppermint. The result is an explosion of flavors, which can be enjoyed both pure and with a tonic.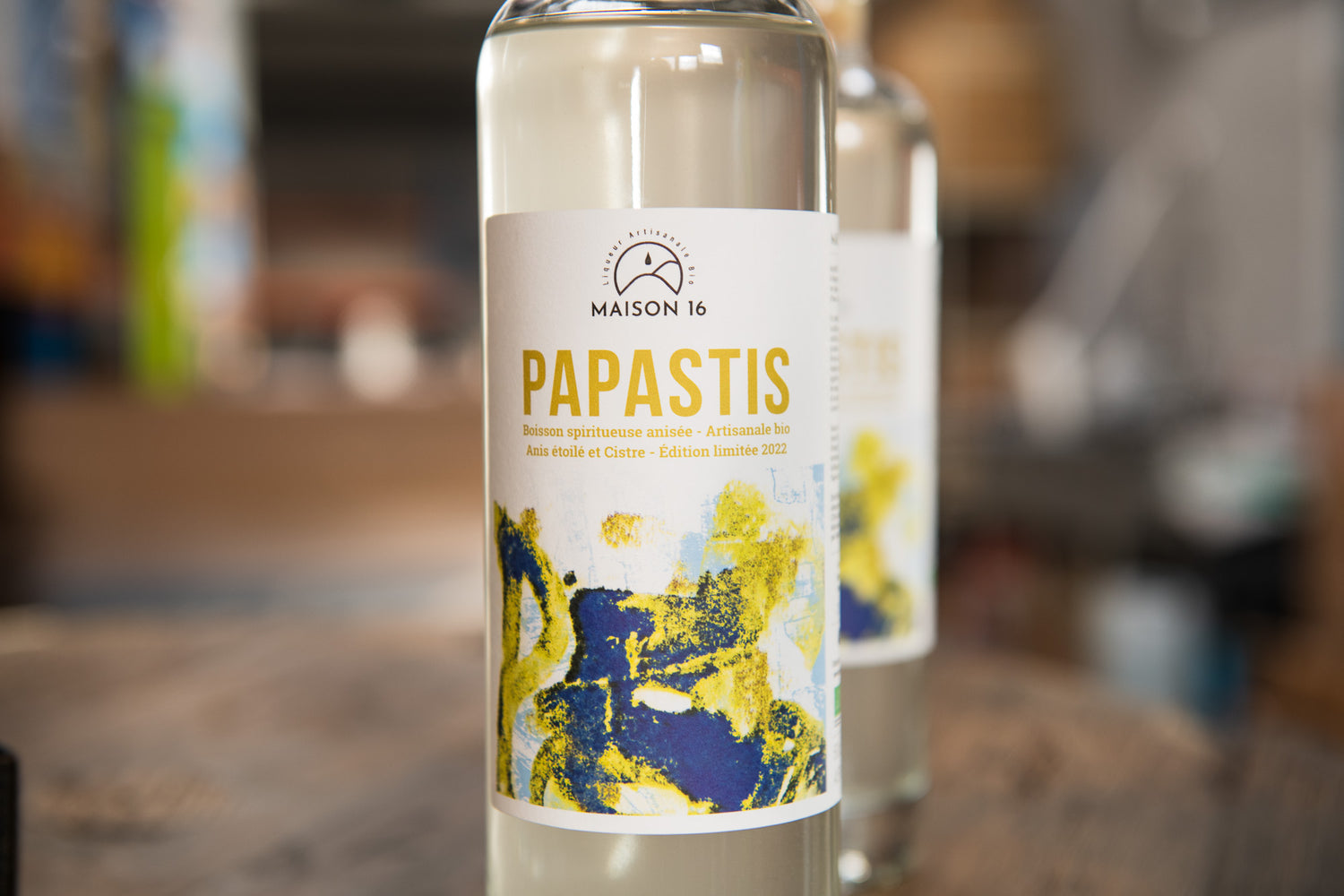 PAPASTIS (45% vol.)
Papastis is an authentic distilled aniseed aperitif, 100% organic. Our spirit is anatural drink: plants and spices are macerated and distilled, creating a flavory drink enhanced by the inherent freshness of anise. No need for us to add sugar, anethole (aniseed essential oil) and liquorice extract, we only use natural plants and spices. A final touch of herbal aroma is added with wild fennels, handpicked at an altitude of 1000m. It is best enjoyed with fresh water and ice.
Our liquors and spirits can be enjoyed fresh and pure, as after-dinner liqueurs, but they can
also be drunk as aperitif or used within cocktails.
COCKTAIL SUGGESTIONS